Product Guide
emNet
Classification:
Shortdescription:
Dual IPv4/IPv6 TCP/IP Stack for Ethernet-APL applications
---
Product types:
Tools, Enabling Technology
---
Technology & Profiles:
PROFINET
---
Company:
SEGGER Microcontroller GmbH
Illustration: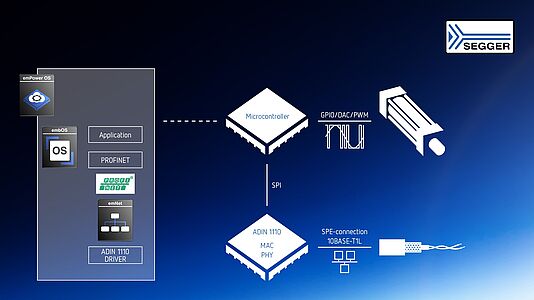 Product description:
emNet is the industry-leading dual IPv4/IPv6 TCP/IP stack for embedded systems and first choice for any Ethernet APL application in combination with ultra low power microcontrollers and Ethernet MAC/PHY chips. What the practical Ethernet-APL application looks like is described in this case study: https://casestudies.segger.com/segger-emnet-supports-siemens-smart-ethernet-apl-field-devices-for-the-process-industry/
Designed from the ground up for embedded systems, emNet is renowned for its high-performance and small memory footprint while still providing flexibility and extensibility. It is at the heart of many industrial and IoT applications and provides support for a wide variety of standard protocols.
Easy to use
Wide variety of upper layer protocols available
Standard socket API for user applications
Zero-copy supported for ultra-high performance and efficiency
Simple compile-time configuration
Extensive runtime configuration
IEEE 1588 PTP precision time protocol support
Works with or without RTOS
Outstanding documentation
emNet combines maximum performance with minimal memory requirements and simple integration without configuration effort. Its design, which specifically targets embedded devices, makes it highly efficient in terms of flash, RAM and packet processing speed. This means that even small, low-frequency microcontrollers deliver excellent network performance.
emNet itself does not contain any hardware dependencies. Any form of hardware dependency is abstracted through a hardware abstraction layer such as an NI (Network Interface) driver. All hardware specific functions for a particular Ethernet controller are typically located in a single emNet driver file. Writing your own emNet drivers is also possible due to the simple but extensible and powerful driver API.
By design, emNet supports both internal and external Ethernet MACs (Medium Access Controller), enabling any standard microcontroller to connect to Ethernet. With emNet, even small, ultra low-power microcontrollers with minimal flash memory and no on-chip MAC can be used.
emNet provides support for virtually any Ethernet PHY transceiver due to its flexible PHY driver layer. A generic PHY driver that is compatible with almost all single port PHYs on the market that follow the IEEE 802.3u standard is included with emNet. Support for other PHY-like devices such as Ethernet switches is also possible.